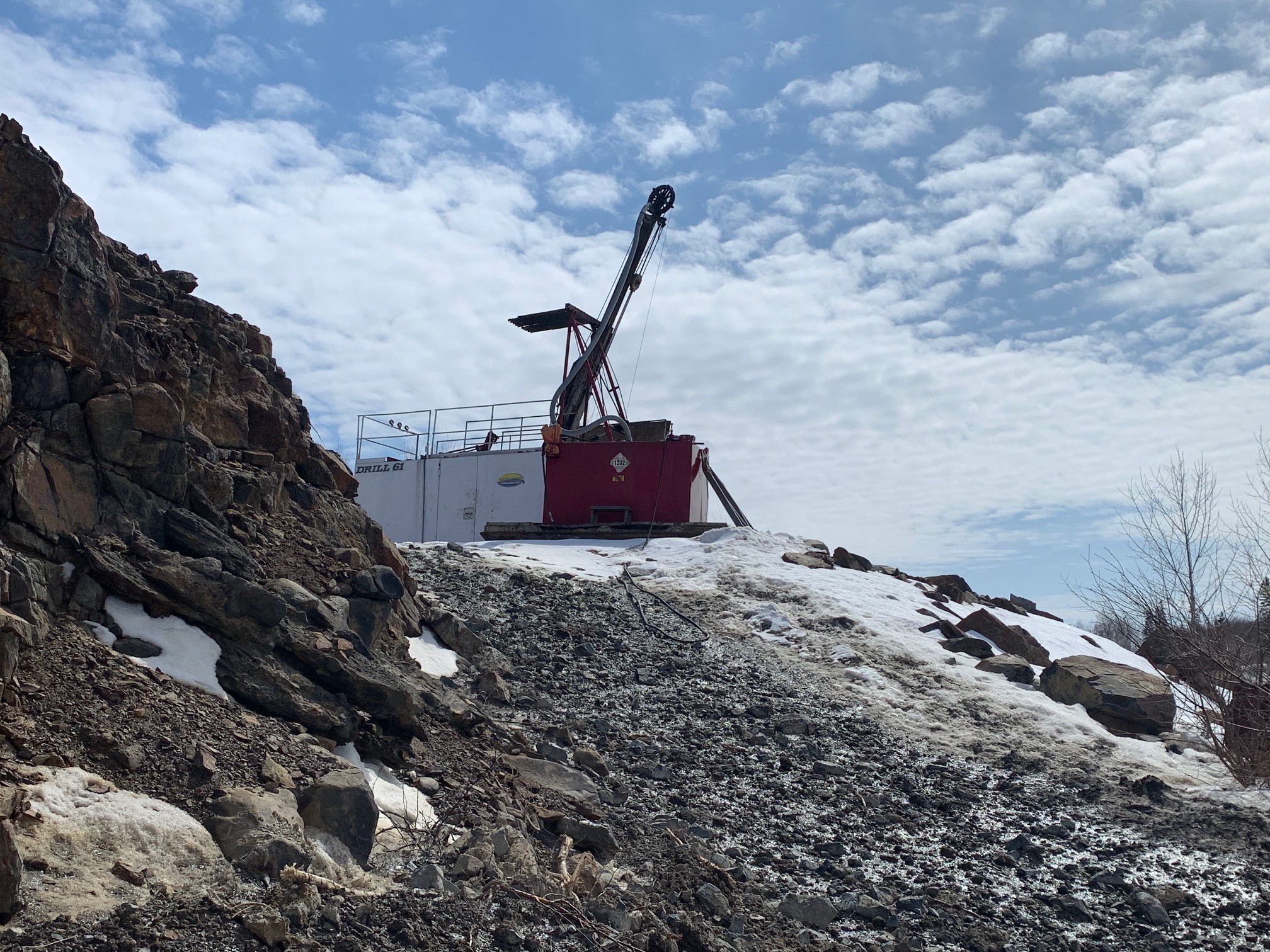 18 May

MAGNA MINING REPORTS NEW ASSAY RESULTS FROM CREAN HILL
MAGNA MINING REPORTS NEW ASSAY RESULTS FROM CREAN HILL
SUDBURY, ONTARIO, CANADA, MAY 18, 2023 – Magna Mining Inc. (TSX.V: NICU) ("Magna" or the "Company") is pleased to announce additional assays results from the ongoing diamond drilling program at Crean Hill. Results include assays from five drillholes completed on the G1 Zone, a narrow embayment structure at the Sudbury Igneous Complex ("SIC") contact, approximately 1000 metres east of the Crean Hill Main Zone (See news release dated February 23, 2023), and one additional drillhole targeting the 109 Footwall ("109 FW") Zone.
Highlights from the new assay results include:
G1 Zone (MCR-23-014): 1.0% Ni, 0.8 % Cu, 0.2 g/t Pt + Pd + Au over 5.2 metres
109 FW Zone (MCR-23-019): 0.2% Ni, 0.3 % Cu, 8.0 g/t Pt + Pd + Au over 28.4 metres
G1 Zone
The G1 Zone exploration drilling was targeted based on historical drillhole LM01800, which was drilled beneath a mineralized outcrop at surface, and was not previously followed up with subsequent drilling. Magna drillholes MCR-23-014 to MCR-22-18 were designed to define the plunge of the mineralization, and intersected a narrow zone of Ni-Cu mineralization from surface to the 65m level. Nickel and copper grades within the G1 zones are generally consistent with SIC contact mineralization at the historically mined Crean Hill deposit, approximately 1000m west of the G1 Zone. The G1 Zone remains open down-plunge.
109 FW Zone
Drillhole MCR-23-019 was drilled within the 109 FW Zone to better define the true width of the mineralized breccia. The hole intersected 0.2% Ni, 0.3% Cu, 8.0 g/t Pt + Pd + Au over 28.4 metres, confirming the presence of high grade PGM 's in this section of breccia in the 109 FW Zone. Previously released drillholes in the 109 FW Zone (MCR-22-010 and MCR-23-013) intersected an overall mineralized zone grading 0.4% Ni, 0.5% Cu, 7.2 g/t Pt + Pd + Au over 98.3 metres and 0.2% Ni, 0.6% Cu, and 11.0 g/t Pt + Pd + Au over 95.4 metres, respectively. Both of these holes were drilled down the plunge of the breccia to better understand the distribution and continuity of high grade veins in this area. These results are not incorporated into the current Mineral Resource Estimate.
The location of the diamond drilling is illustrated in Figures 1 & 2, and assay results are summarized in Table 1.
Dave King, SVP Technical Services, stated: "These results are encouraging, and the information provided allows our exploration team to develop a better understanding of the geological controls on the property. Although these results are not as exceptional as some of our previous results, we are extremely pleased to continue to intersect not only high grade PGM's in the 109 FW Zone, but to start to define a new zone of near-surface mineralization elsewhere on the property which is open below 65 metres from surface. The Crean Hill deposit was historically mined to depths below 1400 metres, so we have a large area below these intersections to explore. We have identified another exploration target further to the east of G1, which we call the G2 target, and drilling has been initiated on the G2 target as well. The exploration potential of the Crean Hill property is quite exceptional."
Exploration Update
The Company currently has two diamond drill rigs operating at Crean Hill since mobilizing a second drill rig in early April. This year to date, there have been 47 drillholes completed for 8,145 metres of drilling, with the results of 9 holes reported to date from the 2023 drilling program. Of 4,966 samples sent for analytical analysis year to date, approximately 2,124 assays currently outstanding and will continue to be released as they are received. Magna currently anticipates completing a total of 15,000 to 18,000m of drilling at Crean Hill in 2023.
A third drill rig will be commencing a 5,000 metre program at the Company's Shakespeare Mine in mid-June. The objective of the 2023 exploration at Shakespeare will be to follow up on the 2022 exploration holes that identified a potential feeder system for the Shakespeare deposit, and test other high priority targets that have been identified at depth adjacent to the Shakespeare deposit. Both the Crean Hill and Shakespeare drilling programs are fully funded for 2023.
Figure 1: Plan View of Denison Surface Geology Showing the Location of the East Embayment and G1 and G2 target areas.
Figure 2: Vertical Section with the 109 Footwall Zone Showing the Location of Drillhole MCR-23-019 (see Figure 1 for location of section)
Table 1: Summary of Drilling Assay Results
All lengths are downhole length.
NiEq % = ( (Ni% x 2204 x Ni Price $/lb) + (Cu% x 96% Recovery x 2204 x Cu Price $/lb) + (Co% x 56% Recovery x 2204 x Co Price $/lb) + (Pt gpt x 69% Recovery / 31.1035 x Pt $/oz) +(Pd gpt x 68% Recovery / 31.1035 x Pd $/oz) + (Au gpt x 68% Recovery / 31.1035 x Au $/oz))/2204 x Ni $/lb
Table 2: Drillhole Collar Coordinates.
 *Drillhole Coordinates are in coordinate system NAD 83 Zone 17
Qualified Person
The technical information in this press release has been reviewed and approved by David King, M.Sc., P.Geo. Mr. King is the Senior Vice President, Technical Services for Magna Mining Inc. and is a qualified person under Canadian National Instrument 43-101.
QA/QC
Sample QA/QC procedures for Magna have been designed to meet or exceed industry standards. Drill core is collected from the diamond drill and placed in sealed core trays for transport to Magna's core facilities. The core is then logged, and samples marked in intervals of up to 1.5m and cut with a diamond saw. Samples are then bagged in plastic bags with 10 bagged samples being placed into rice bags for transport to Swastika Laboratories in Kirkland Lake Ontario via Ontario Northland Bus services. Samples are submitted in batches of 50 with 5 QA/QC samples including, 2 certified reference material standards, 2 samples of blank material and 1 duplicate.
About Magna Mining Inc.
Magna Mining is an exploration and development company focused on nickel, copper and PGM projects in the Sudbury Region of Ontario, Canada. The Company's flagship assets are the past producing Shakespeare and Crean Hill Mines. The Shakespeare Mine is a feasibility stage project which has major permits for the construction of a 4,500 tonne per day open pit mine, processing plant and tailings storage facility and is surrounded by a contiguous 180km2 prospective land package. Crean Hill is a past producing nickel, copper and PGM mine with an updated technical report dated August 2022. Additional information about the Company is available on SEDAR (www.sedar.com) and on the Company's website (www.magnamining.com).
For further information, please contact:
Jason Jessup
Chief Executive Officer
or
Paul Fowler, CFA
Senior Vice President
Email: info@magnamining.com
Cautionary Statement
This press release contains certain forward-looking information or forward-looking statements as defined in applicable securities laws. Forward-looking statements are not historical facts and are subject to several risks and uncertainties beyond the Company's control, including statements regarding the production at the Shakespeare and Crean HIll Mines, the economic and operational potential of the Shakespeare and Crean Hill Mines, potential acquisitions, plans to complete exploration programs, potential mineralization, exploration results and statements regarding beliefs, plans, expectations, or intentions of the Company. Resource exploration and development is highly speculative, characterized by several significant risks, which even a combination of careful evaluation, experience and knowledge may not eliminate. All forward-looking statements herein are qualified by this cautionary statement. Accordingly, readers should not place undue reliance on forward-looking statements. The Company undertakes no obligation to update publicly or otherwise revise any forward-looking statements whether as a result of new information or future events or otherwise, except as may be required by law.
Neither the TSX Venture Exchange nor its Regulation Services Provider (as that term is defined in the policies of the TSX Venture Exchange) accept responsibility for the adequacy or accuracy of this press release.